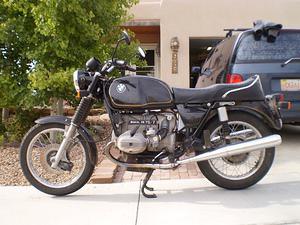 My friends will no doubt say that they already knew that I'm an airhead. In this case, however, airhead referes to BMW R-series motorcycles. I've dreamed about having one of my own ever since reading "Zen and the Art of Motorcycle Maintenance." I'd forgtotten about that dream until recently, but it recently became a reality.
My one and only motorcycle was a 1981 Suzuki GS650. This bike was my only means of transportation while finishing up my degree at the University of Cincinnati. After graduation, I rode it from Ohio to New Mexico to start my first job. I had a lot of great times riding that bike around Cincinnati and Northern New Mexico, but I didn't maintain it well. Then marriage and parenthood made it harder to find time to ride.
This past Father's Day, Amy and I met up with friends at a vintage motorcycle show. The show featured some beautiful bikes, including Nortons, Harleys, Ducatis, Moto Guzzi's, and BMWs. The show got me thinking about riding again, but I wasn't seriously considering shopping for a bike. A few weeks later a friend from college posted to Facebook that he was selling his BMW R100. I jokingly commented that I'd buy it if he'd ride it out from Massachusetts. He replied that he couldn't and sent a link to a 1977 BMW R75/7 for sale here in Santa Fe.
Okay, I thought, why not look? There's no harm in looking, right? Probably not, as long as my better half didn't object and, fortunately, she didn't! So I started checking Craig's List and after looking at a few, I ended up coming back to the R75 my friend had originally sent me. I bought it three weeks ago and I love it. The previous owner had poured a lot of money into the bike to rebuild the carburators, replace the tires, the points, the condenser, and fuel lines. There's plenty more to do, but it runs well and I love riding it!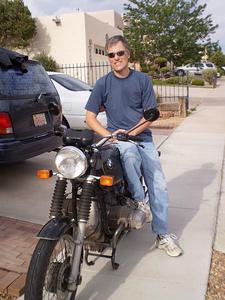 Here's the to do list, as of today:
Replace push rod seals to stop oil leaks.
Replace the timing chain, it's stretched.
Replace the semi-broken front brake lever.
Rebuild or replace instrument cluster. The odometer and tachometer do not work. Speedometer is okay.
Gas tank cap is locked in the filler neck. Break the lock or replace.
Remount or replace the brake light.
Reattach or replace front right turn signal.
Repaint the tank, the top is pitted and worn.
Weld on kick tab to the center stand. Done!
Fix or replace the bench seat compartment lock.