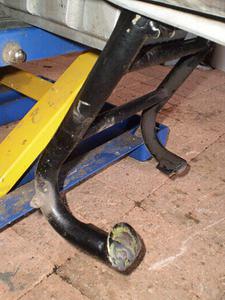 After spending a few weeks riding my new-to-me '77 BMW R75/7, it's time to start knocking things of the to do list. One of the smaller, but most annoying items on the list is replacing the missing tab bar on the center stand. Avoiding burning my hand on the exhaust while trying to pull the spring-loaded center stand down got old in hurry.
The weld which holds the tab on was obviously not strong enough to withstand the stress of pulling the bike up onto the center stand while stepping on the tab. I'm sure my bike's tab was snapped off when a previous owner held his foot against it while jerking the bike back onto the stand. An internet search revealed that this is a common occurrence on Beemers. I've taken to placing my foot on the flat end of the curved center stand bar on the left-side of the bike. I imagine that this method is what the stand's designers had originally intended.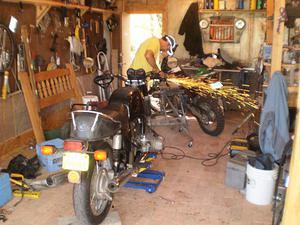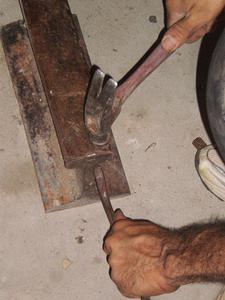 Fortunately, my friend Donald has a welding machine and was willing to help me out. I rode up to his place last Saturday and he made short work of replacing the tab. As stock for the tab, Donald chose a 3/8" u-bolt from the suspension of an old Willy's Jeep he'd restored. Here's what we (but mostly he) did.
Jacked the bike up, unhooked the center stand springs, and removed the bolts which secured the stand to the frame. The bolts seemed really loose and the threads on the center portion of bolt were severely stripped, apparently from rubbing against the spacers.
Grounded off the remaining nub where the tab had broken off.
Drilled a 3/8" hole through where the tab had attached, straight through the other side. The new tab bar will go through the center stand bar to provide weld points on both sides.
Spread open the "U" to create a bend for the tab to clear the exhaust pipe. The size of the u-bolt seemed to be made for this task. It was really easy to get just the right bend.
Before cutting excess off the u-bolt, we put it through the drilled hole and held the stand in place to mark where to cut the bolt on the other side of the center stand hole and a couple of inches beyond where it cleared the exhaust.
Measured again! Cut the u-bolt. Flattened the cut end which clears the bar.
Cleaned the tab and the center stand and welded the tab in place.
Added a few weld beads where the center stand makes contact with the ground. The metal there is getting thin. Gotta be careful here, as the metal here is paper thin!
Painted and reinstalled!
The end result looks almost like what the tab looked like off the factory floor in Germany! Thanks Donald!