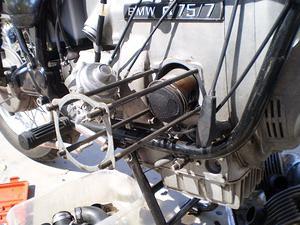 I've made progress on the Beemer's to do list over the past month! My friend Paul introduced me to his friend Tom a month ago. Tom's an engineer, a former Mercedes mechanic, and owner of several toys, including several motorcycles. Best of all, Tom's a patient man who offered to show me how to pull the jugs on my R75 to replace the leaky pushrod tube seals. 
I more or less followed the Scot Marburger's instructions, with a few extra tips from Tom. The cylinders looked to be in really good shape–Tom said they looked pristine. I did strip a bolt on the right cylinder head during reassembly which Tom was able to fix with a helicoil. The bike started right up after putting her back together and ran like a champ all the way up La Bajada Hill. I roder her up to the Santa Fe Ski Basin last weekend and she ran great.
I couldn't be happier with this bike right now.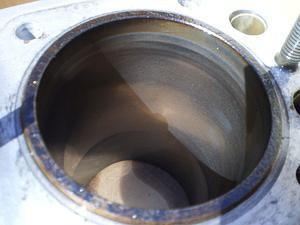 Here's the updated to do list.
Replace push rod seals to stop oil leaks.
Replace the timing chain, it's stretched.
Replace the semi-broken front brake lever.
Rebuild or replace instrument cluster. The odometer and tachometer do not work. Speedometer is okay.
Gas tank cap is locked in the filler neck. Break the lock or replace.
Remount or replace the brake light.
Reattach or replace front right turn signal.
Repaint the tank, fenders, battery cover, the top is pitted and worn.
Weld on kick tab to the center stand.
Fix or replace the bench seat compartment lock.
Fix trim on the seat and front bottom corners which are scraping the tank.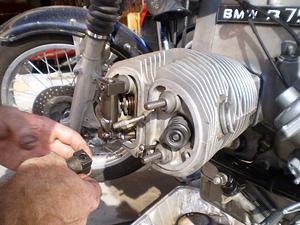 It took three ebay purchases before I finally had a suitable replacement front brake lever. Sheesh! Tom drilled a small hole under the gas tank top handle and inserted a pin which locks the top and threaded cylinder in place. It's soooo much easier gassing the bike up now!
I purchased a used tail light housing unit from Re-psycle and put it on last weekend. Mark at Re-psycle was super helpful and knows his stuff.
Next on the list is fixing the instrument cluster. Tom and Paul mentioned that there's a place called Mo-ma in Albquerque that specializes in the repair of gauges and instrument clusters. I'd also like to get a set of BMW or Krauser panniers, so it's back to ebay!